The Department of Transitional Assistance (DTA) added $199.50 in food benefits to each Pandemic-EBT (P-EBT) card at the end of June. The amount was automatically added to existing cards; families do NOT need a new P-EBT card, and they do NOT need to reactivate their card. Families can check their balance by calling the number on the back of their card.
 
Families should have received a P-EBT card if one of their children was receiving free or reduced-price school meals under the National School Lunch Program before schools closed for the pandemic and they do not actively receive DTA benefits (SNAP and TAFDC). If families lost their P-EBT card or believe they are eligible and did not receive one, they should visit www.MAp-EBT.org. More information and outreach materials are also available at that site.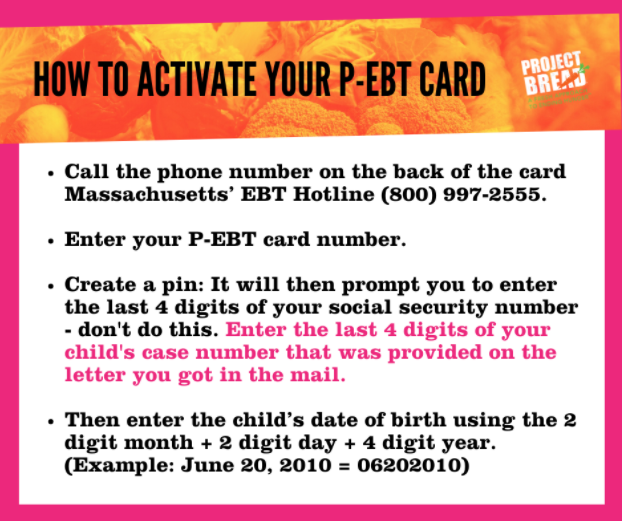 Families who are still waiting to receive their P-EBT Card:
As of July 21, DTA has started the process of printing and mailing outstanding cards to families who are still waiting to receive them. Please note: not all families will receive their cards right away. They are continuing to print and mail cards over the next few weeks. Please be patient if you are waiting for yours, especially when you begin to see other families receiving their cards. If you do not receive your card in two weeks, check in with the FoodSource Hotline for an update: 1-800-645-8333. Monday-Friday: 8am-7pm. Saturday: 10am-2pm.
Click here for more information.