Old Colony RVTHS Mission Statement, Philosophy, and Goals
Old Colony RVTHS District Improvement Plan
Old Colony RVTHS Program of Studies
Our School
Old Colony Regional Vocational Technical High School is located on a 80-acre campus in Rochester, Massachusetts, the geographical center of the five-member town school district that includes Acushnet, Carver, Lakeville, Mattapoisett, and Rochester.
Accredited by the New England Association of Schools and Colleges, Old Colony is committed to providing quality vocational-technical and academic programs.
Graduates receive a high school diploma and a certificate of proficiency in their technical area of study.
Old Colony's four-year program of studies allows students to directly enter the job market as skilled workers or to continue their education at any college, university, or technical school. Our Tech/Prep Program guarantees admission to Bristol Community College after completing the two-year courses at Old Colony. Also, college credit can be awarded for technical training received at Old Colony from Wentworth Institute, New England Tech, and Johnson and Wales University. Old Colony is fully accredited by the New England Association of Schools and Colleges, as well as the Massachusetts Department of Education.
Old Colony offers twelve vocational-technical programs: Automotive Technology, Computer Information Technology, Cosmetology, Culinary Arts, Drafting, Electrical, Electronics, Health Careers, House and Mill Carpentry, Machine and Tool Technology, Graphic Communication and Design and Welding/Metal Fabrication. More in-depth descriptions of each of these offerings are given in this Web Site.
Sending Districts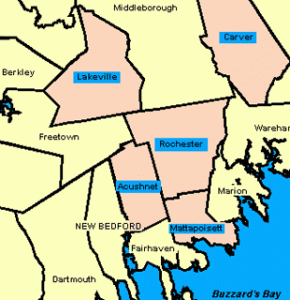 The sending districts for Old Colony RVTHS are:
Acushnet
Carver
Lakeville
Mattapoisett
Rochester
Admissions
Eighth-, ninth-, or tenth-grade students residing in the district may apply for admission on or before the January deadline. Applicants are accepted based on academic performance, recommendations by sending school counselors, and a personal interview.
For further information on application procedures, visit our Web link "Applying" or call Old Colony Regional Vocational Technical High School at 508-763-8011.
Support Services
The Old Colony Guidance Department works with the sending schools and with parents to make the transition to high school a success. Ninth-grade students are given an opportunity to explore six vocational areas during their first trimester. They are then given their permanent placement based on their attitude, interest, attendance, and performance in each area. Students, regardless of gender, are encouraged to explore any vocational areas in which they have an interest.
During the four years of high school, the guidance staff provides a variety of services, including counseling, job placement, cooperative education, college planning, and scholarship information.
A wide range of academic courses are offered to accommodate students of varying ability levels. Services are available to assist students in meeting the academic and vocational requirements.