Gas Metal Arc Welding (GMAW) Demonstration – (October 2004)
This welding demonstration of Automatic GMAW (Gas Metal Arc Welding) of Bore Welding was given to Welding, Automotive, and Machine shop students in grades 9,10,11 and 12, in October 0f 2004. The demonstration was given by Stephen St. John, owner of St. John Fabricating.
Setup time for this type of job is 1 to 2 hours. Average cost per hour is $100.
To complete and entire job depends on how much repair is needed per job.
Main repair work is re-welding and surfacing pin for heavy equiptment operations.
Gas Line Piping Demonstration – (February 2002)
On February 4, 2002, Old Colony's Welding Shop hosted Nigel Howe, came to Old Colony to demonstrate down hill welding. Mr. Howe grew up in Southeast England and has been working for Bay State Piping (near Hyannis, MA) for 8 years.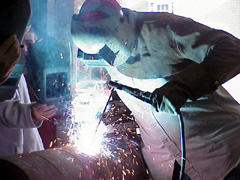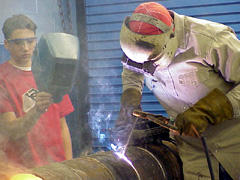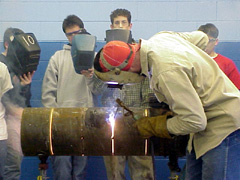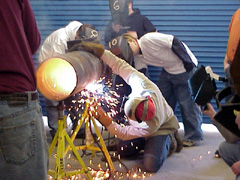 All freshmen, sophomores, juniors, and seniors from the Welding Shop attended the demonstration. The students thoroughly enjoyed the demonstration and benefited greatly from Mr. Howe's expertise. Old Colony thanks Nigel Howe for coming to the school and sharing his knowledge with the welding students!
Burning-Bar Welding Demonstration on Manganese – (October 2000)