Below: Class of 2007 Cosmetology Students with their "Eighties Do's" …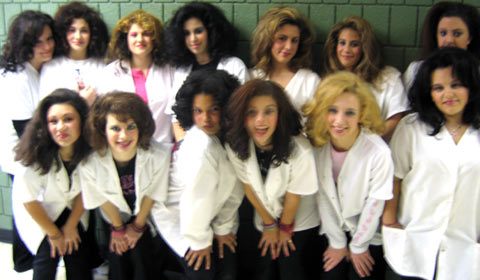 ---
Below: – The sophomore girls, under the supervision of their instructor, Mrs. Carol Charbonneau, created the 80s look to help them understand the hairdos of the past. Wild hairdos and big hair, along with flashy make-up made for a fun day of education and excitement.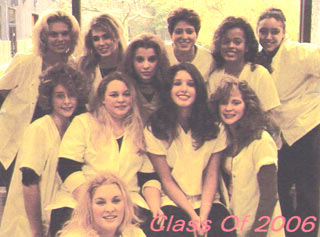 ---
Below: (May 2004) – The Cosmetology Class of 2007 are shown here working on their hair with rollers to create a basic set. This service helps them to learn dexterity and coordination. The students study under the instruction of Mrs. Charbonneau.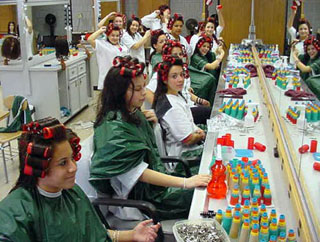 ---
Braiding styles demonstration (5/3/00)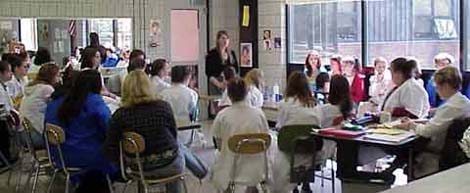 Deborah Francoeur, a 1989 Old Colony graduate, visited the Cosmetology Department on May 3, 2000, and performed a demonstration of update braiding styles. In the slide show below, Ms. Francoeur works with Nicholl (upside down lace) and Jessica (lace cascade).
---
Acrylic Nail Application Demonstration (6/8/00)
On Thursday, June 8, 2000, O.P.I. educator Julie Angel visited the Cosmetology junior students. She gave a hands-on demonstration and workshop on acrylic nail application. Julie demonstrated "clarite," a new odor-free product. Julie also demonstrated nail tip application, "tips to go," and acrylic nail tip overlay application. Under her direction, the students practiced making "chicklets" on their nail forms. Each student received an O.P.I. certificate for natural looking nail application which was added to their growing portfolios.