Course Description
The main function of this course of study is to teach the safe and proper set-up and operation of equipment common to the machine tool industry. In addition, technical information relating to trade and industrial practices is a part of the program.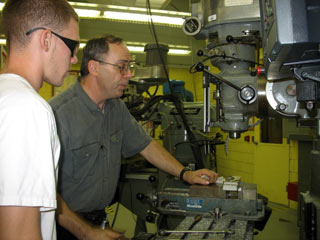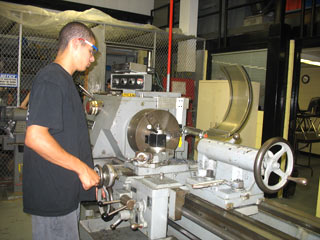 The curriculum is designed to produce a well-rounded entry level machinist. This is accomplished by a series of projects set up by instructors, as well as projects brought in by local industries. In completing these projects, students work with lathes, milling machines, grinders, drill presses, boring machines, and other machine tools. Computerized numerical control equipment is used by advanced students.
Desirable Qualifications
Mathematical aptitude
Accuracy
Attention to detail
Neatness
Automated Pencil Sharpener
CAREER AWARENESS DAY
The Freetown Lakeville 8th graders visited on Career Awareness Day at Old Colony in the Machine and Tool program. The students was watching live CNC machining demonstrations.
Students completing this course can find employment in all phases of the machinist trade. Opportunities exist in the technical fields of plastic injection mold-making, rubber molds, and computer parts manufacturing. Positions range from basic job shop employment to apprenticeship in tool and die making, computerized numerical control work, and general machinist.
The Machine & Tool Technology Program at Old Colony is a four-year course of study that includes hands-on shop expertise with an integrated academic course of study that includes blueprint reading and theory. The curriculum includes all aspects of basic machining through computerized numerical control. The program is affiliated with the Apprentice Program at Gillette Company in Boston and is accredited by the Massachusetts Department of Education as well as the New England Association of Schools and Colleges.
Possible Careers
Machine Operator
Machinist
Tool and Die Maker
Mold Maker
Computerized Numerical Control (CNC)
Programming and Machining
Computer Aided Drafting
Quality Control
Teacher
Engineer