The Electrical program maintains one of the highest placement rates in the school. Graduates from the program continue to be highly sought after by local electrical contractors and industry.
The Electrical program:
Is fully accredited, and the 1800+ hours of training are applied directly toward the student's apprentice hours necessary for his/her Massachusetts Electrical License.
Covers both advanced residential wiring and commmercial/ industrial electricity.
Installs fire and security alarm systems, and residential heating and control wiring.
Practices electrical wiring skills in our on-site house.
Includes the study of commercial raceways, power transmissions  transformers, D.C. and A.C, motor controls, industrial electronics and programmable logic controllers.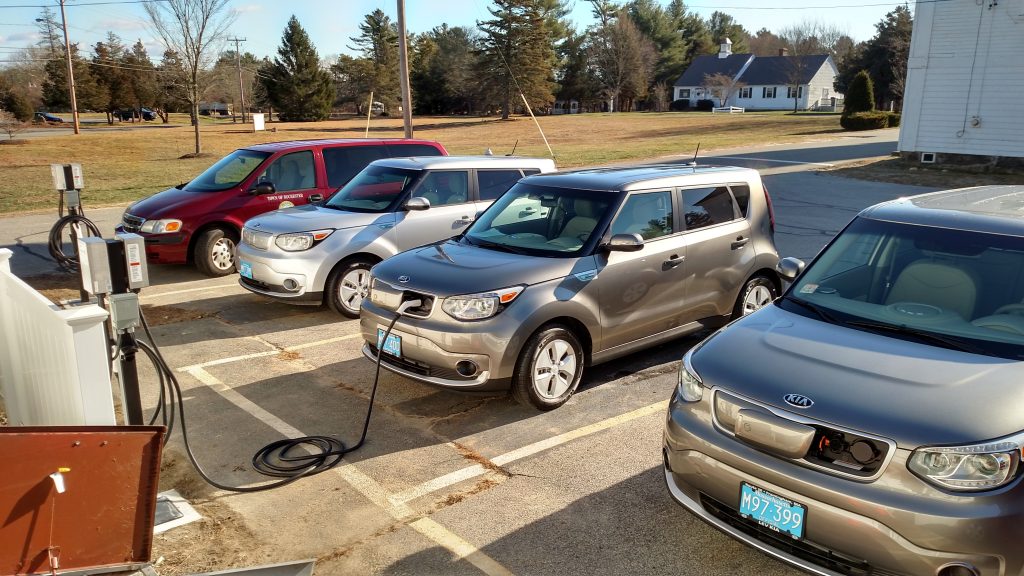 The Senior Electrical class recently completed the installation of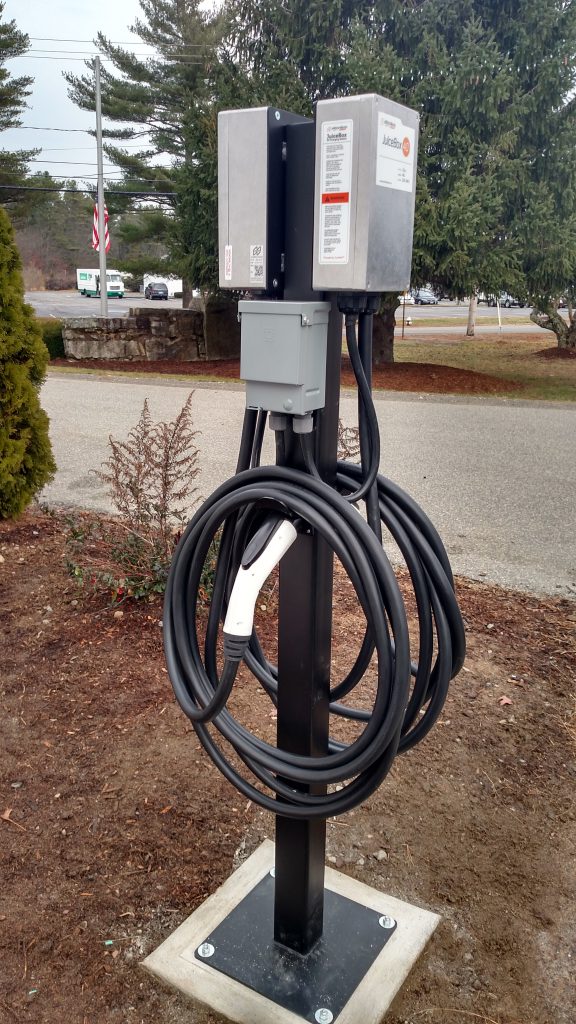 electric vehicle chargers for the Rochester Town Hall.  The department is also in the process of training students on the installation and design of Photovoltaic Systems (Solar Electric Systems) using our full scale on-site interactive (grid tied) system as a training tool.  In addition, students are also being exposed to off grid or standalone systems which are used in applications where obtaining power from the serving utilities' grid may not be feasible.
Rochester Town Hall Electric Vehicle Chargers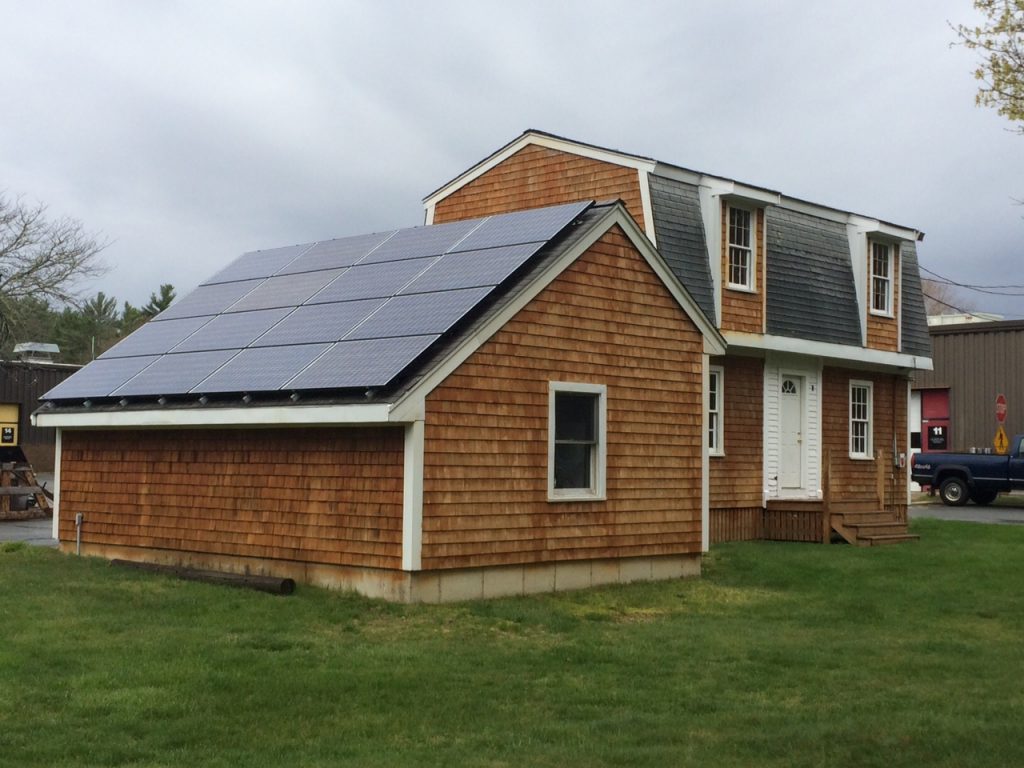 Onsite Interactive 3.3kW (Grid-Tied) PV System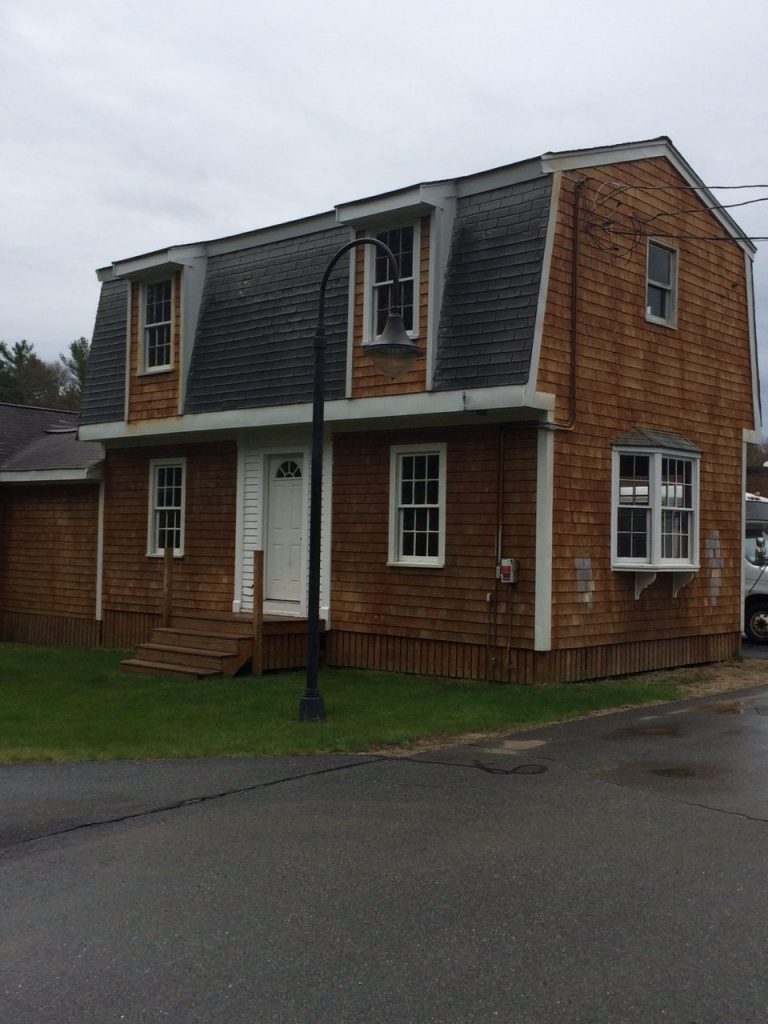 The Junior class is continuing to learn about the installation requirements for residential electrical installations using our on-site model house, associated building specifications and blueprints.  During their shop/related classroom cycles, students are also trained to perform a complete electrical service calculations in order to determine the required electrical service size.  In addition, they are also being introduced to lighting and motor controlsystems utilizing our custom lighting and motor control center consoles.
On-site model house
L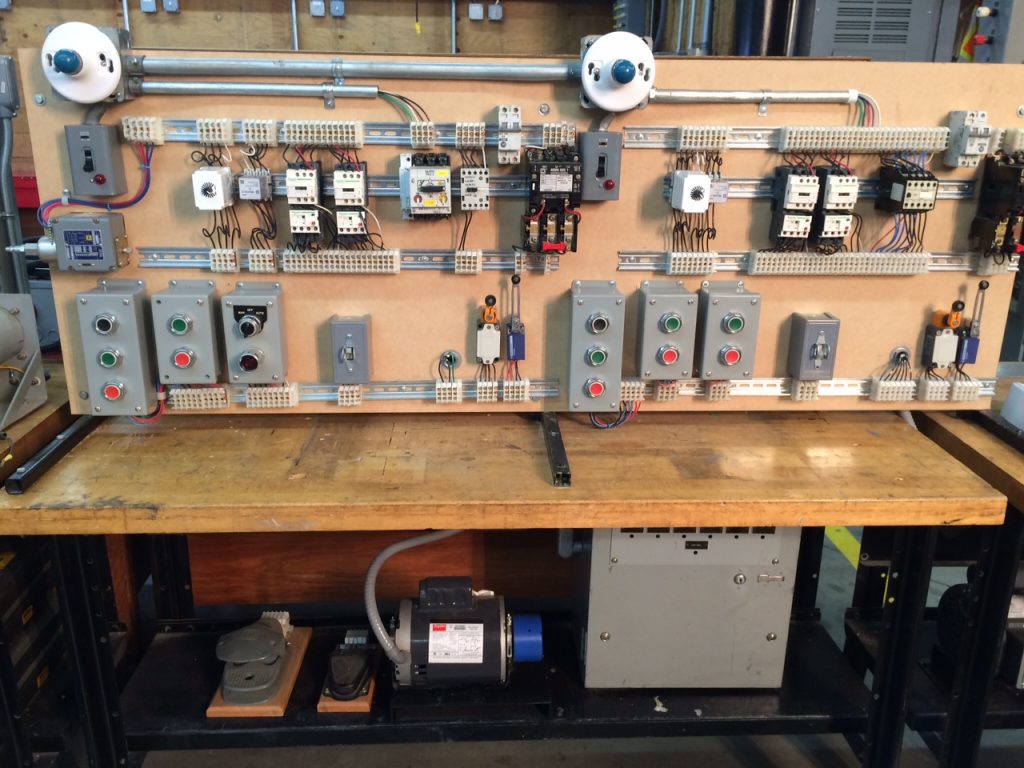 ighting and Motor Control Center Console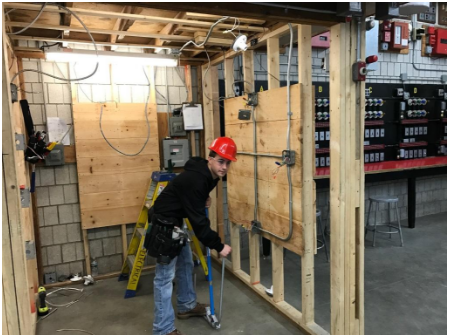 The Sophomore class is continuing to learn about the installation requirements and wiring methods for commercial wiring systems such as EMT (Electrical Metallic Tubing) and RMC (Rigid Metal Conduit).  During their shop/related cycles students learn how to calculate and fabricate field bends using the appropriate construction tools and safety equipment
Electrical Sophomore Student "Cade Genard" fabricating an EMT field bend
Old Colony Students Build Electric Vehicle By Kenneth J. Souza, Reprinted from "The Wanderer" – Mattaposiett, MA
The Plymouth Voyager mini-van at Old Colony Regional Vocational Technical High School may not be automatic, systematic, or hydromatic as John Travolta boasted of his racing machine in Grease, but it does have one thing over the slick and shiny "Greased Lightning" – it runs completely on direct current electrical power. No gasoline or diesel engine, any pistons. In fact, no rumbling at all beneath the hood.
Built through the combined efforts of junior and senior students in the school's Electrical Department under the direction of instructor Michael Forand, the vehicle carries 21 car batteries in a wood and glass display case fashioned by the school's carpentry students. One of these batteries supplies the vehicle with "normal" electrical power for lights, radio and other accessories, while the other 20 batteries are used to run the vehicle in the absence of a traditional motor.
"The (van) runs on 120 volts.we connected a series of 20 batteries at 6 volts each," said Mr. Forand. "And we added a built-in charger for the batteries which can accept either 120-volt or 220-volt current." Mr. Forand noted it takes about six hours to fully recharge the bank of batteries which can then power the vehicle for an estimated 50 to 60 miles.
The process which propels the vehicle is both simple and yet complicated in that the accelerator is now connected directly to a circuit board under the hood which regulates the amount of current which turns the drive shaft – much like a resistor or a conventional light dimmer. Pushing down on the accelerator increases the voltage, turning the drive shaft faster which, in turn, increases the vehicle's speed.
The vehicle responded surprisingly well during a test drive. It was able to accelerate to 45-miles-per-hour with little trouble.and the smooth and quiet operation is uncanny. Of course, there are some minor drawbacks in the absence of a gas-powered motor.
"We have no heat.and certainly no air conditioning," Mr. Forand said. "And we had to put in a vaccuum pump to work the power brakes."
Mr. Forand also noted that with 20 batteries inside the vehicle giving off hydrogen gas, a vented tube needed to be installed. "All batteries give off hydrogen gas.but with only one installed in the front of most cars there's no need to vent them," he said.
Another minor drawback is the lack of space in the vehicle, which has to lug around 20 batteries weighing about 75 pounds each in a space which otherwise, could accommodate four additional passengers.
"You can't travel as far as you can with (a gas-powered) vehicle, but I think it's great," Mr. Forand said. "It would make a great second car for taking short trips to the store."
Though the vehicle saves money on gasoline fuel, it still costs a considerable amount of money to keep it up and running. Mr. Forand noted that the bank of batteries cost an estimated $2,000.and that's not counting the $6,000 to $7,000 it cost to convert the vehicle to electrical power.
"It's still very expensive technology," he said. "It ends up costing you about 7 cents a mile and you need to replace the batteries every five years."
Mr. Forand said there are already other applications for electrical vehicles in the state – Boston currently uses buses run by electrical power – and some other trade schools have taken on similar projects like Old Colony. "Everybody builds an electrical truck – usually a Chevy S-10 – but we didn't want to do that," he said. "The mini-van was donated to the school on February 4 and we registered it on May 20."
Tentative plans for the vehicle include using it to deliver pamphlets and promotional literature about Old Colony Regional Voc-Tech to other schools and also to give rides to winners of a proposed essay-writing contest. "We'll be using the vehicle as a recruiting tool next year," Mr. Forand said. "We'll have a pamphlet answering the 20 most-asked questions about the vehicle."
And just like the obsessed Dr. Frankenstein in Mary Shelley's classic, Mr. Forand noted that his students certainly got a charge out of bringing their creation to life. "This was a great project for the kids," Mr. Forand said.
Gallery with all of the old images
Electrical students wire Carver Gazebo
During the 1999-2000 school year, students from the Electrical Department helped to wire a gazebo for the town of Carver, Massachusetts. For more information and a 15-image slide show, visit our Carver Gazebo Project Page !