cosmoopeningday

Programs offered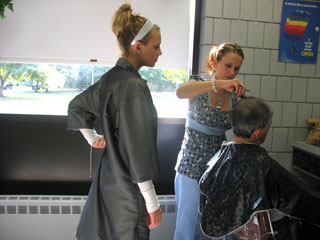 The state of Massachusetts requires 1,000 hours of study at a licensed cosmetology school and the passing of the State Board of Cosmetology examination for licensing. Upon successful completion of both the practical (hands-on) and written exam, the student will be issued an Operator's License. This license allows the student to work for a Class 1 licensed cosmetologist as an apprentice/assistant. After two years of full time employment in a salon, the stylist is then able to receive their Class 1 Cosmetologist's License. With this license, they may open their own salon, manage a salon, rent a chair, and be left alone to work in a salon.
Our students receive optimum individual attention and close personal instruction by our experienced instructors. Our curriculum is extensive and meets both state and national guidelines. We provide our students with a practical and comprehensive education which trains them in the methodology to instill professional pride and develop a high degree of confidence in acquiring their license.
Our students are trained not only in the mastery of manipulative skills, but also receive the theory of information during their related classes.
Optional: Manicurist License
Old Colony's Cosmetology Department has expanded the Cosmetology curriculum to include an optional manicuring license. The manicuring license consists of a 100 hour program within the Cosmetology program.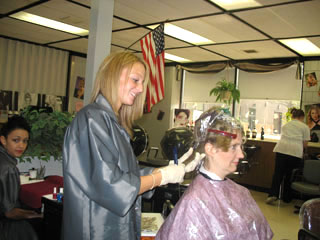 Qualified students in the junior and senior class will be participating in their shop cycle. The program is an excellent means to secure an additional license, prior to completing the required 1000 hour cosmetology license. Students completing the manicuring program and passing the state manicuring examination will be able to be employed after school and weekends in a manicuring  salon prior to graduation.
This is a wonderful opportunity for all students. A manicuring license obtained in the local private sector ranges in price from $1,300 to $1,500 and will be of no cost to Old Colony students.
Related Dream Salon
Each spring, the Cosmetology Senior Class presents their "Senior Project". This is an annual assignment that seniors complete each year in their related classroom. The seniors must build a 3D model of their "Dream Salon" as well as create advertising to promote their new salons. Some of the advertising that they create is:
Brochures
Business Cards
Yellow Page Ad
Radio Ad
A Salon Sign
A sign with their salon hours posted
3D Model
Paint & fabric swatches
Equipment collage
The students are then graded on content, creativity, and neatness. The model of the salons contain hair, nails, massage as well as tanning areas. This assignment is one that the seniors enjoy each year. This project gives them the opportunity to showcase their creativity.
Senior Decade Style Project
During the last cycle of senior year, the students are assigned a senior project. This project consists of researching, creating, and completing an ENTIRE look for a specific era from the past. It will be a head-to-toe transformation and will be done with a partner. Each person in the group will be responsible for completing pieces of the project. Students will present and be graded as a TEAM.
One student is the model, the other student is the stylist/designer
Students choose a specific era
Both students research the era
Written component including assigned research
Small poster board with pictures
Students have an entire day to complete the model to make him/her look like they just stepped out of that period of time
Both members of the team present the poster board, written paper, and completed model to the class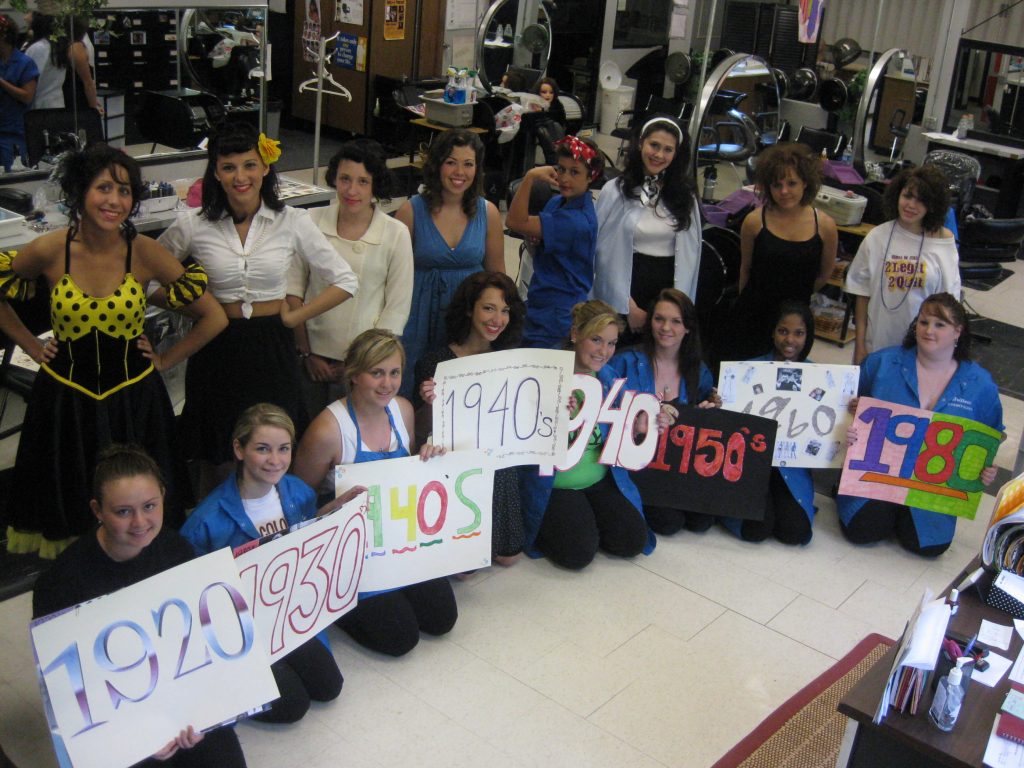 The Shop and Equipment
The main clinic, which services the public, contains fifteen styling stations and hydraulic-styling chairs, hood dryers, manicuring tables with stools, eight shampoo stations, a receptionist station, and student theory area. There are two emergency stop power switches located in the main clinic area. Each student has an individual assigned work station which stores their personal equipment and supplies. All students have access to additional mannequins, hot tools, clippers with attachments, various types and styles of perm rods and other needed supplies.
The dispensary is supplied with a sink, washing machine and dryer, eyewash station, an OSHA approved flammable liquid storage cabinet, and various styling supplies.
The related room contains sixteen student desks, an overhead projector and screen for technology integration, and an OSHA approved flammable liquid storage cabinet.
The freshmen and sophomore side of the shop contains sixteen work stations for students to perform their practiced mannequin work. These stations also store their personal equipment and supplies. This portion of the shop also includes a styling counter with eight hydraulic style chairs, manicure tables with stools, and a student theory area.
Shop Activities & Work
Students are also offered training/certification in specialty areas such as keratin treatments, acrylic nail techniques, and hair extensions.
Career Opportunities
Hair Stylist
Platform Stylist
Competition Stylist
Wig Specialist
Hair Extension Stylist
Hair Colorist
Permanent Wave Technician
Skin Care Specialist (Esthetician)
Manicurist
Make-up Artist
Electrologist
Salon Manager/Owner
State Board Examiner
State Board Inspector
Cosmetology Instructor
Educational Director for Manufacturer
Merchandising Salesperson or Buyer
Manufacturer's Demonstrator
Services to the Public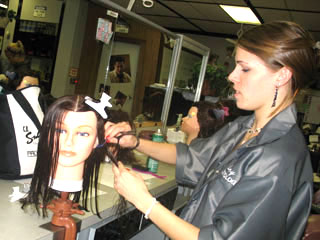 The Old Colony Cosmetology Department, in its "salon" atmosphere, offers various services to the public. Cosmetology students who have acquired 300 hours of experience, may perform non-chemical services such as: shampoo/conditioning treatments, hair cuts, clipper cuts, blow-dry styling, roller sets, braiding, and formal and informal hair styling. Students also perform facials, manicures, eyebrow and upper lip tweezing or waxing, and advanced nail techniques including paraffin wax.
Students who have acquired over 400 hours of experience may also perform chemical services such as: hair color, highlighting, foiling techniques, cap highlights, permanent waves, chemical relaxers, and keratin treatments.
A minimal fee is charged to clients for supplies and products. Gift certificates can be purchased for family members or friends.  Appointments can be made by calling 508-763-8011, Ext.137.  Hours of operation are:
Mornings        ~      8:00 am – 11:00 am
Afternoons    ~      12:15 pm – 1:00 pm
All work in this school is done by students. Charge is for materials only; there is no charge for services.
lockssalonbrochure