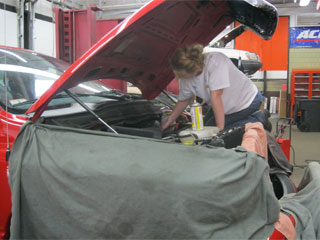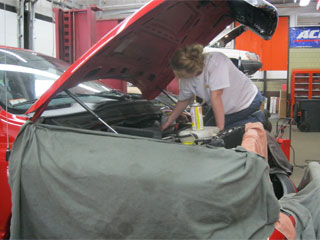 As a student of Old Colony's Automotive Technology Program, you will learn not only what you are doing, but why you are doing it. You will not be just a parts changer anymore, you will be a highly skilled technician when you graduate.
Students in the NATEF Master Automotive Technology Program learn how to diagnose, service and repair both domestic and foreign automobiles. They also learn how to troubleshoot problems of all kinds, using the latest engine analyzers, hand-held scan tools, and other computerized diagnostic equipment. Students learn it all – from basic engine systems, to computerized fuel injection, anti-lock brakes, computerized engine control, air conditioning service and chassis, and front end repair.
Upon graduation, our students are qualified to work in a shop that uses such equipment and processes as:
John Bean Visualiner four-wheel alignment machine
Snap-On John Bean balance force wheel balancer
John Bean EHP advanced tire machine
AAMCO disc and drum resurfacing
Snap-On R134A A/C service
Snap-On Solus Pro/Ultra scan tools
Snap On Verus scan tool
Click here to learn about our:
Automotive Department Competition Winners & Awards
Click here to access:
About SkillsUSA
SkillsUSA is a national nonprofit organization of students, teachers and industry, working together to ensure America has a skilled work force. SkillsUSA helps high school and college students enrolled in career and technical education programs to excel by teaching employability skills in conjunction with their trade, technical and service occupations skills. The association's annual membership exceeds 300,000 students and instructors in more than 3,700 schools and colleges in every state, three territories, and the District of Columbia. For more information, visit: "www.skillsusa.org."
Earn While You Learn . . . . .
Co-operative Employment:
During the Co-op phase, students put into practice the skills and knowledge they have acquired. Our Co-op program is considered an integral part of our junior and senior educational program.
The quality of our Automotive Technology Program is highlighted by our graduate placement rate of over 95%.
Employees prefer Old Colony Auto Tech graduates because:
Old Colony Automotive Technology training is just like working in the trade
Training is driven by the industry
The Automotive Technology program has a proven co-operative and full-time placement record
Old Colony has strong partnerships with local dealerships in the surrounding communities
The Automotive Technology Program provides many opportunities: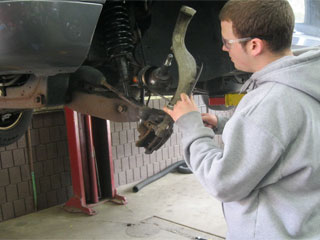 A high-paying professional career in a fast-growing occupation
Nationally certified curriculum and master certified instructors
Hands-on training
State-of-the-art training components and vehicles
Career advancement opportunities
Exposure to college degree programs
Automotive Technology program gets NATEF  accreditation.
The Automotive Technology program at Old Colony RVTHS has received accreditation by the National Automotive Technicians Education Foundation (NATEF) and the National Institute for Automotive Service Excellence (ASE). Old Colony's automotive program has been accredited in the following areas:
To achieve this coveted recognition, the school's automotive training program underwent rigorous evaluation by NATEF. Nationally accepted standards of excellence in areas such as instruction, facilities, and equipment were used.
Upon completion of the evaluation, NATEF recommended that Old Colony be accredited by the National Institute for Automotive Service Excellence . ASE is a national non-profit organization which tests and certifies repair technicians in addition to certifying automotive training programs.
Automotive Technology program receives national reaccreditation
November 10, 2012:
The Old Colony Automotive Technology program has recently earned reaccreditation through the National Automotive Technicians Education Foundation, Inc. (NATEF). In a confirmation letter from the NATEF, the evaluation team commended the Old Colony faculty and administration for "maintaining the program's high standards and continuing to meet the industry's requirements." It goes on to say, "The explosion in automotive technology makes your high quality automotive training program more valuable than ever."
Of the reaccreditation, Automotive Technology Program Instructor Dennis Frates said, "By having the automotive program reaccredited, we will continue to provide our current and future students with the skills necessary to meet or exceed industry standards set forth by NATEF."
There are several parties that benefit from a program's accreditation. They include the school/program itself, students, employers and the automotive service industry. To view all the benefits of accreditation, visit the NATEF website at www.natef.org
Congratulations to the Old Colony Automotive Technology program!