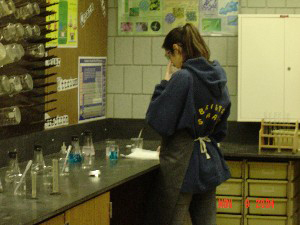 This course will be the study of physical and chemical properties that can be used to classify and describe matter. Atoms will be introduced to help understand the interaction of elements and compounds. A section on the Periodic table of Elements will include physical and chemical properties relative to atomic structure. Chemical bonding will be covered by the interactions of their valence electrons.
Chemical reaction and Stoichiometry will cover the conservation of atoms in chemical reaction which leads to the ability to calculate the mass of products and reactant. Acid and bases will be included as the importance in numerous chemical processes that occur around us from the laboratory to the environment.
The behavior of gases will be explained by the Kinetic Molecular Theory, solutions will be presented as solids, liquids, and gases form solutions, and chemical equilibrium is a dynamic process that is significant in any systems which chemical reactions occur at different rates. Thermochemistry will include the driving forces of chemical reaction, energy and entropy, and electrochemistry will be include as the oxidation-reduction reactions occur by the electron transfer and constitute a major class of chemical reactions.
Text: The Study of Matter, third edition Henry Dorin, Peter E. Demmin and Dorothy L. Gabel; Prentice Hall, Inc. Copyright 1989
Cycle Scope and Sequence
(Tentative)
Cycle 1 – Chemistry, Matter, and Energy
Cycle 2 – Chemistry, Matter, and Energy
Cycle 3 – Measurement and Problem-Solving
Cycle 4 – The Periodic table of Elements and the Atom
Cycle 5 – Chemical Formulas, Chemical Bonding & Chemical Reaction and Equations
Cycle 6 – Chemical Formulas, Chemical Bonding & Chemical Reaction and Equations
Cycle 7 – Chemical Formulas, Chemical Bonding & Chemical Reaction and Equations
Cycle 8 – Acids, Bases, Salts
Cycle 9 – Organic Chemistry
Cycle 10 – Biochemistry